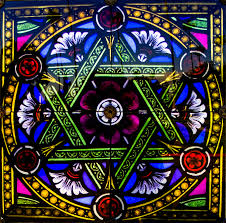 House of Learning/Beit Midrash
Temple Beth El offers a wide variety of learning experiences for all ages and stages of Jewish life. Numerous engaging spiritual and social experiences provide avenues to connect and to deepen the relationship to your Jewish heritage. Programs include preschool, young families programs, K‒10th grade learning, youth programs, summer camp, Torah study, Bar/Bat Mitzvah programs for youth and adults, programs for seniors and lifelong learning.
Quick links:
Prayers and Blessings
Beit Mitzvah Program

Our joyful preschool for ages 2 to 6 incorporates Jewish values and culture, with emphasis on family involvement and community in a stimulating learning environment designed to foster curiosity, self-esteem and love of learning.
Young Families Programs
Mazel Tots (formerly Yad B'Yad) is a monthly Sunday morning program. Youngsters and their parents are invited to sing, create, meet, have fun and learn about Judaism. All are welcome.
Beth El Bim Bam Shabbat programs are for families with young children from birth to 11 years old. Enjoy a vegetarian family potluck dinner, Shabbat singing, and engaging Shabbat activities for all ages. Go to the Beth El Bim Bam page for the dates, times and additional details.
Young Families Project provides ongoing programs for families with children up to 11 years old. Gatherings and holiday celebrations take place at Temple Beth El as well as out and about Santa Cruz County.
Temple School—Kindergarten through 10th grade
Exciting and dynamic learning experiences for students to study about and strengthen their Jewish identity. Our goal is for our students to love attending, and to be proud and delighted to be Jewish. You don't have to be religious to send your children to Temple School. As Jews, we explore what we think and believe without doctrine. Interfaith families are welcome.
SRFY – Santa Cruz Reform Youth
In our senior youth group for Jewish high schoolers teens experience the close friendships that are pivotal to their Jewish identity by participating in our dynamic assortment of programs, including ski trips, sleepovers, beach bonfires, social action projects, and creative services.
Camp Kayetz
Summer fun in a framework of Jewish culture, customs and ethics for 6 to 12 year olds and CITs ages 13 to 15. Our warm, nurturing, safe and creative atmosphere includes visits to parks and beaches, camping trips, a water park, music and theater, special Shabbat celebrations, sports and arts and crafts.
Beit Mitzvah program
Deeply meaningful and personalized Beit Mitzvah preparation is available for youth and for adults.
Community Education
The Santa Cruz Jewish Film Festival brings us the best of current Jewish cinema every year.
Interfaith study with our non-Jewish neighbors, learning about their religions and more deeply about ours, forges bonds of friendship through study.
Lunch and Learn, is FREE and open to the public. The Torah has guided the Jewish people throughout our history, transmitting the wisdom and values of our tradition. Join us to study and discuss the week's parsha or portion. Beginners welcome. Taught by Rabbi Paula or Rabbi Shifra. Thursdays at 12:00 PM in the Temple library.
Lectures by Jewish scholars bring dynamic speakers from the Bay Area, North America, Israel and our own University of California at Santa Cruz Jewish Studies faculty. Get informed about many different and fascinating aspects of Jewish culture, religion and communal life.
Lifelong Learning Classes
Whether you're just beginning your Jewish education or are a seasoned student of Judaism, Temple Beth El offers a wealth of learning possibilities ranging from the spiritual depth of our ancient texts to pressing contemporary issues here and in Israel.
Senior Connections
Daytime programs offer a rich variety of lectures, discussions, films, musical and dramatic performances, art and health workshops, and luncheons. Programs are free and open to the public.
Hebrew Immersion for Kids
With Ilana Goldstein
Every Thursday, ongoing, the classes are held at Kol Tefillah in Santa Cruz. For more information, see the attached notice.
Sponsored by Temple Beth El and Kol Tefillah.
Wed, September 27 2023 12 Tishrei 5784